It takes time, effort, and often mental strain to set up a company in a competitive market. Vital aspects to address include managing inventory and meeting the customers' needs and preferences. Jewelry inventory systems can relieve the pressure and assist with these processes.
Jewelry retailers need a system that easily processes and tracks each sale. This can aid in averting theft. The system should record each transaction, matching the digital record with the inventory.
Several determinants call for consideration when choosing the right inventory management software.
Standard Characteristics of Jewelry Inventory Software
Inventory control software (Inventory Software) helps businesses to manage and maintain business operations. It facilitates the pricing process and enables optimal merchandise levels.
Smart inventory management software analyzes and evaluates the logistical process. It automates all operations including ordering, costing, transportation, assembling, storing, shipping, and delivery.
Jewelry store owners should ensure that the inventory software provides the following functionalities:
For each completed sale the system should automatically deduct inventory. Including photos of stock items within the system enables correct identification of pieces.
The software should be able to create a database of family members and significant dates for each client. This enables you to send reminders for future purchases. It will greatly strengthen your relationship with customers' customer relations and increase their loyalty.
The best jewelry store software will provide advanced and diversified jewelry categorization. This will allow you to search for and track specific items to be found by type, size, price range, weight, as well as batch number, serial number, and date of manufacturing.
The perfect system will also keep and automatically update a detailed record of all adjustments, alterations, and repairs. These records would update based on current information.
Jewelry prices are significantly affected by the fluctuating values of precious metals and gemstones. The inventory software should track any changes occurring within the markets. This allows the store to adjust their stock prices as needed.
It is important to weigh the cost of such a system against the benefits provided.
Overview of some of the best jewelry inventory software
Pack4it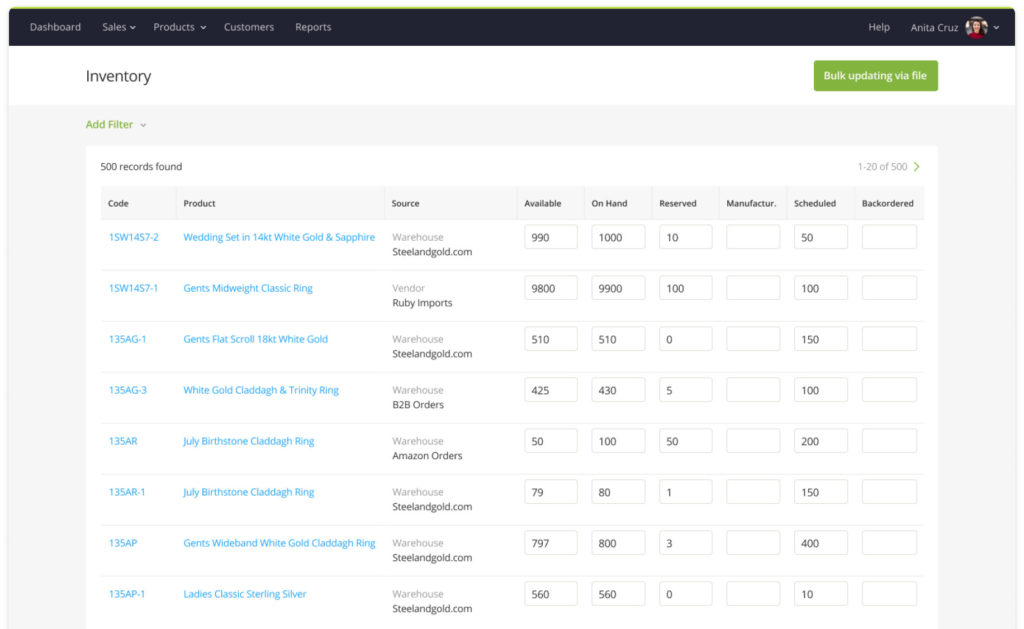 Pack4it is the perfect system for managing jewelry shop inventory. The main benefits are instantaneous visibility and advanced control over your inventory and business. Other practical features enable smaller enterprises to maximize profit, expand, and compete. It enables store owners to generate purchase orders, control stock, and view suppliers. It also includes a barcode scanner.
Pack4it is a cloud-based POS software. It provides for both retail and wholesale trading. Users can sell online or face-to-face, keep track of inventory in multiple warehouses, and facilitate operations with multiple vendors.
The integration of the different modules has major advantages for the user. It is unique in that it unites POS, CRM, and inventory modules into one tool. Information that is available to managers or employees is always factual and up to date. Accurate planning and demand forecasting become achievable. So customers are never disappointed by supply chain inefficiencies. It is even compatible with accounting software, such as Xero and Quickbooks.
Inventory features:
Creating barcode labels
Instantaneous, multi-location stock management
Low-stock notifications
Multi-vendor stock management
Drop-shipping options:
Send quotes
Send purchase orders
Convert sales orders to drop-ship
Pack4it offers full integration with Magento, Shopify, WooCommerce, Opencart, and BigCommerce. It is also compatible with accounting programs like Xero and Quickbooks.
RevelSystems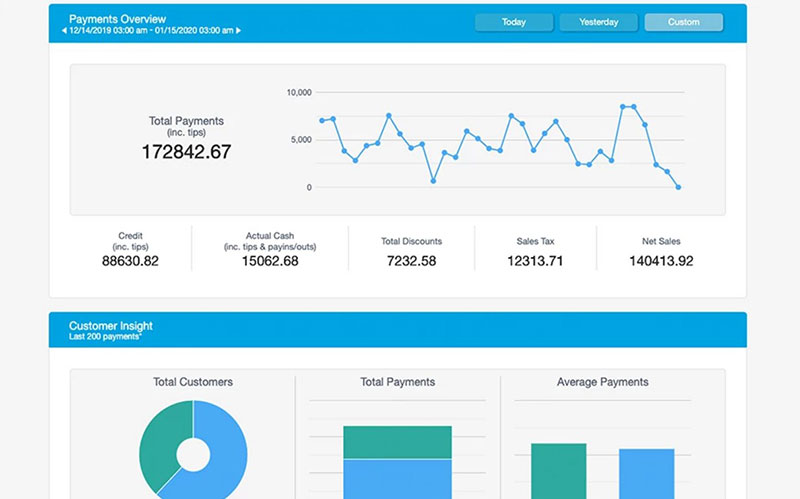 This cloud-based platform provides POS functionality for your customer channels and operations. It enables you to manage your customer database, inventory, and social media.
A highlight of this system is the provision of data analytics. These include order history tracking, hourly sales, payment and sales summaries, and product mix. It is a user-friendly software that allows user access control through unique IDs, passwords, and swipe cards.
It provides real-time information about merchandise in both online and brick-and-mortar channels. CRM options allow you to access, analyze, and manage all your customer interactions.
Edge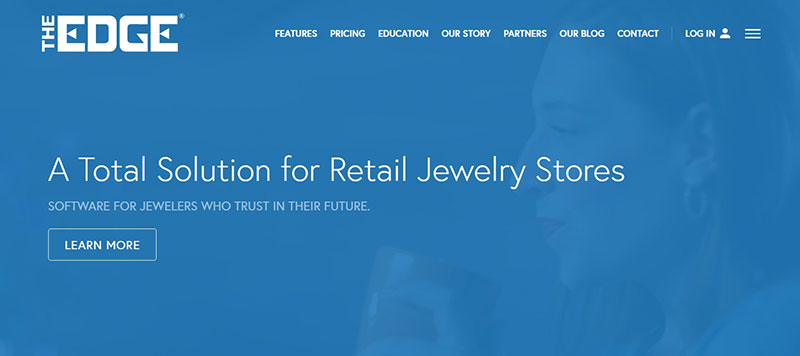 The Edge enables you to track stock levels and helps stores to ascertain their most profitable stock. This optimizes sales and maintains a strong cash flow. This jewelry inventory software keeps transaction records and generates customer purchase data reports.
Edge is a great system for managing inventory and generates insightful sales, costs, and profit reports.
Sortly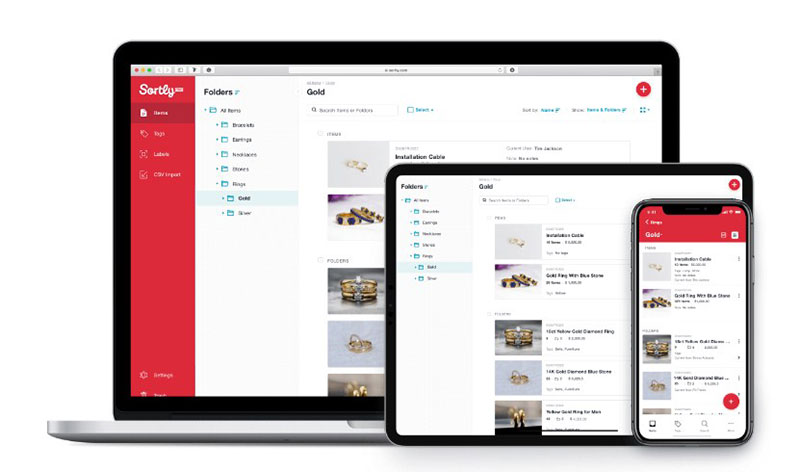 This jewelry inventory software allows for detailed, intuitive tracking across different warehouses.
Sortly Pro offers the additional options of tagging and adding notes. This allows users to search for and track pieces by quantity, price, or other product information. Locate specific items easily by highlighting photos. Sortly can create, connect, and print customized QR labels and barcodes. With a built-in UPC, ISBN, and EAN barcode scanner search for particular pieces and update inventory with ease.
NetSuite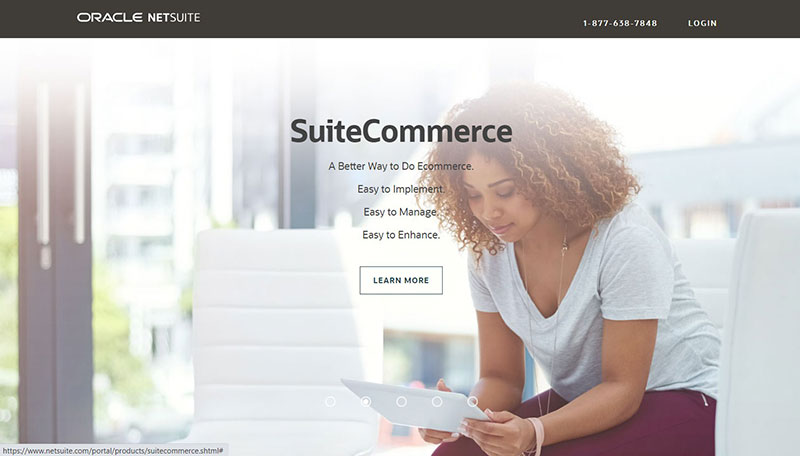 NetSuite for Retail is a cloud-based software for multi-channel retail management. It brings together the functions of e-commerce, POS, and order management. This jewelry inventory system allows you to manage the back office and use multiple channels to sell merchandise in different countries and regions.
NetSuite for Retail is customizable according to your current needs. Use it to add, remove, and manage new channels, locations, business models, and brands. It gives you instantaneous insight into customer behavior, sales, inventory, and finance. The order management system offers three different functions: "buy anywhere", "fulfill anywhere", and "return anywhere".
Visual Retail Plus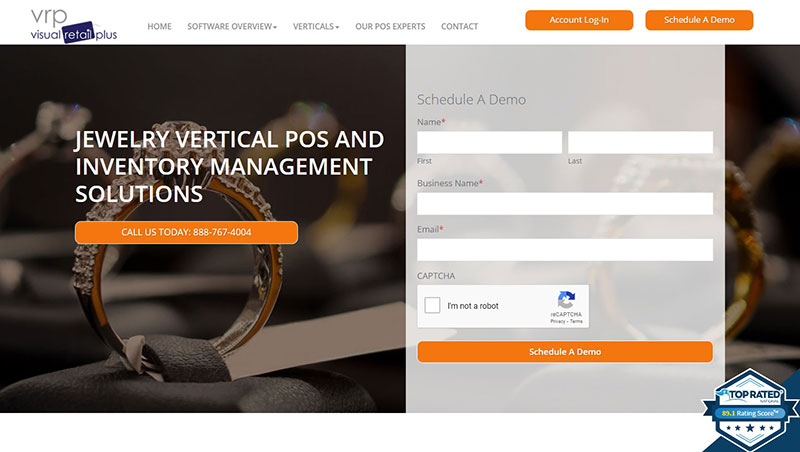 This is a comprehensive jewelry store inventory and POS management system. It covers the whole spectrum, from time and attendance to all aspects of CRM.
Visual Retail Plus can list your products in groups, sub-groups, and tertiary groups. You can classify the products by size, color, type, material, price, or any other appropriate characteristic.
VRP software makes it easier for you to manage luxury products such as watches. To give you and your customers peace of mind, the software uploads the serial numbers of all items in the shipment. This allows you to track sales of individual pieces.
Sellbrite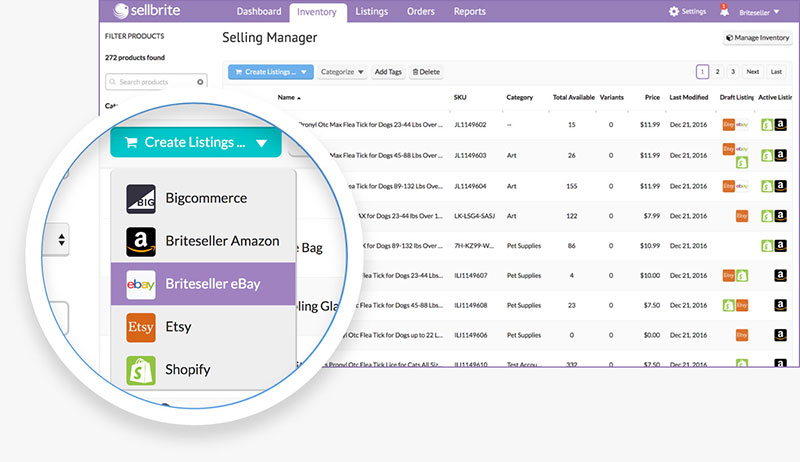 This cloud-based inventory management software suits small and mid-size online jewelry stores. The bundle allows users to control inventory and manage products and orders. It provides useful channel analytics and can automate and optimize product listings. It helps store owners to avoid overselling, and to speed up shipment and delivery.
Sellbrite tracks and manages merchandise and inventory rates in different warehouses and channels. Sellbrite is user-friendly and customizable. It integrates with e-commerce platforms including Amazon, eBay, Walmart, Etsy, and Spotify. There are different subscription options available.
ChainDrive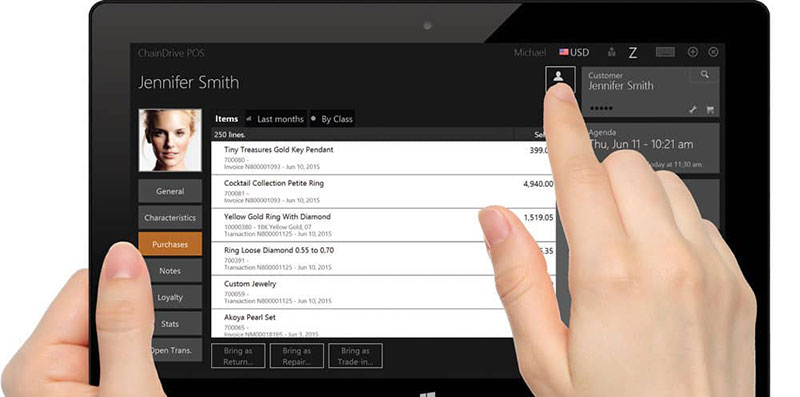 ChainDrive can be used for retail and wholesale conducted both in-person and online.
It can facilitate POS, shipment and delivery, inventory, warehouse, CMR, and finance management. The CRM features gather and store all customer data. This allows stores to create personalized offers that foster customer loyalty.
wJewel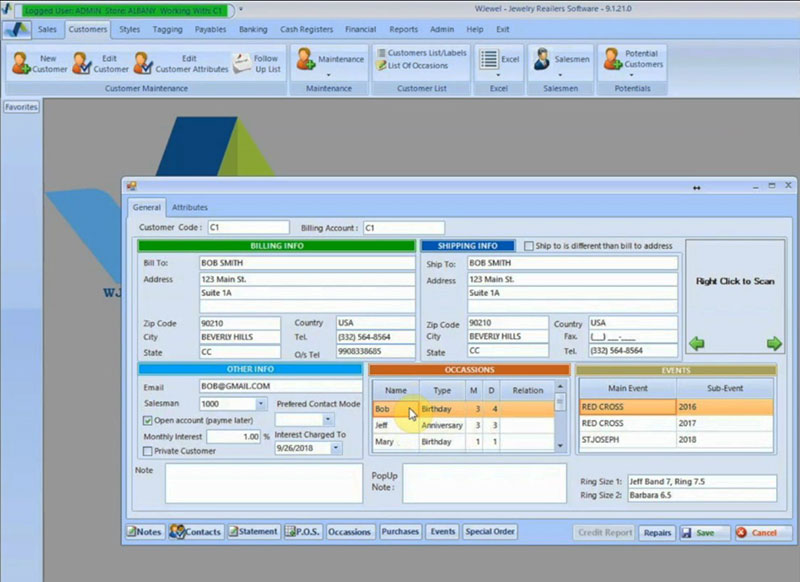 This jewelry inventory software can be used by manufacturers, refineries, wholesalers, and retailers. It is also compatible with QuickBooks.
wJewel assists with managing sales, returns, exchanges, trade-ins, and special orders. It has a receipt printing facility and can store credit card and gift card data. It allows you to track sales and manage customer data, tax reports, and appraisals.
Shopify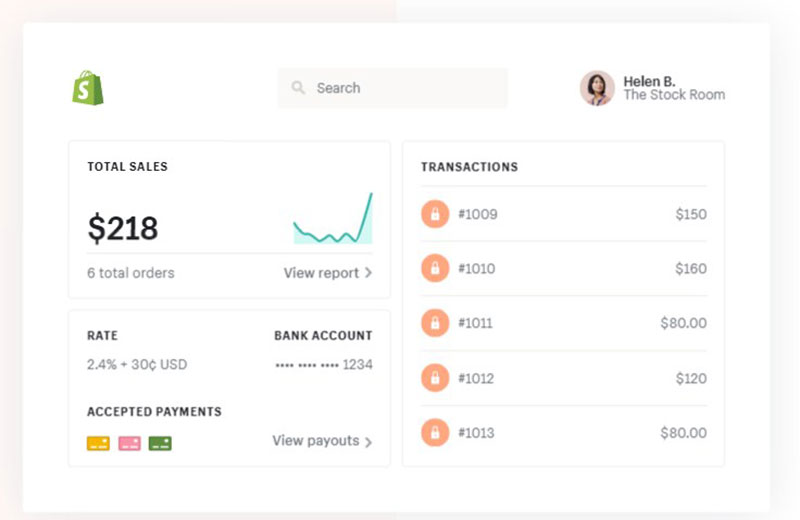 This software focuses on brick-and-mortar businesses. It is flexible and can be fully customized to meet your requirements.
Shopify elevates the quality of your interactions with customers. It can synchronize the POS system across all your devices. This enables customers to browse and explore stock, select a product, and pay by swiping their card and signing on your iPad. The app includes the receipt printing option.
Piro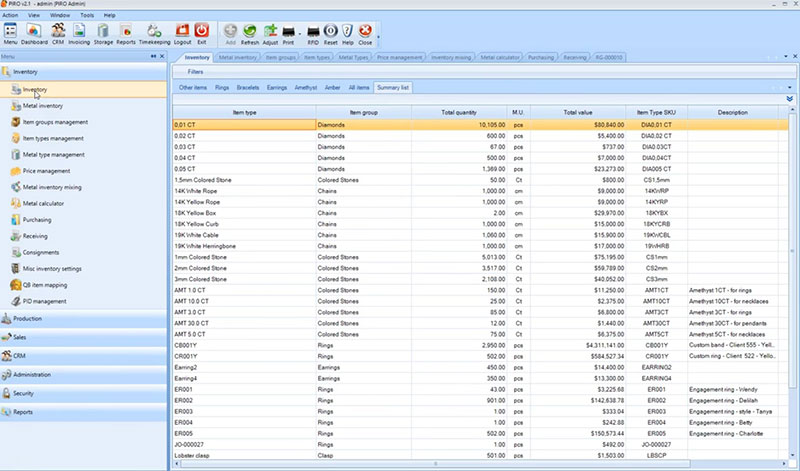 This is a top-of-the-range management software created specifically for jewelry manufacturers. Manage the entire manufacturing process from receiving an order to successful delivery.
Piro enables you to manage all inventory (including metals, gems, and finished pieces) and casting tools. It will track the production workflow and manage purchasing and sales. CRM for vendors and customers is available. It allows for real-time integration of QuickBooks.
QuickBooks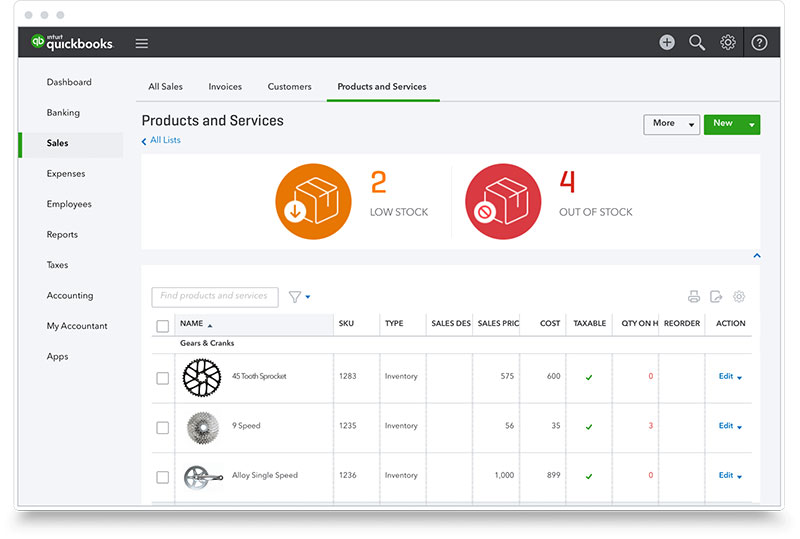 QuickBooks is a general business tool offering inventory and sales tracking. It is easy to learn with the help of multiple tutorials available on the Internet.
Lightspeed Retail Software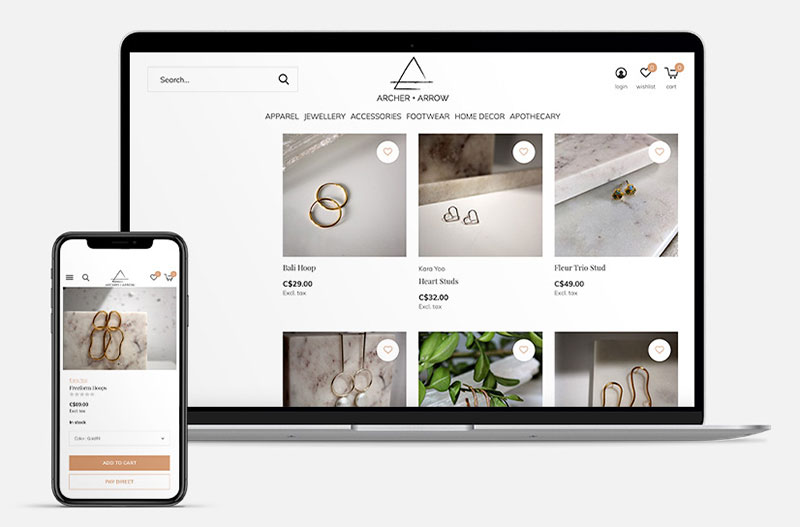 This cloud-based POS software enables you to manage your in-store and online inventory. Lightspeed provides cash drawer control and payment processing tools. Create and access customer profiles and view multi-channel sales data analytics. It is compatible with accounting software.
Lightspeed can be used with other equipment such as a barcode scanner or receipt printer. It enables you to synchronize inventory across multiple locations. This allows store associates to access inventory information and sell items in any store.
Jewel Mate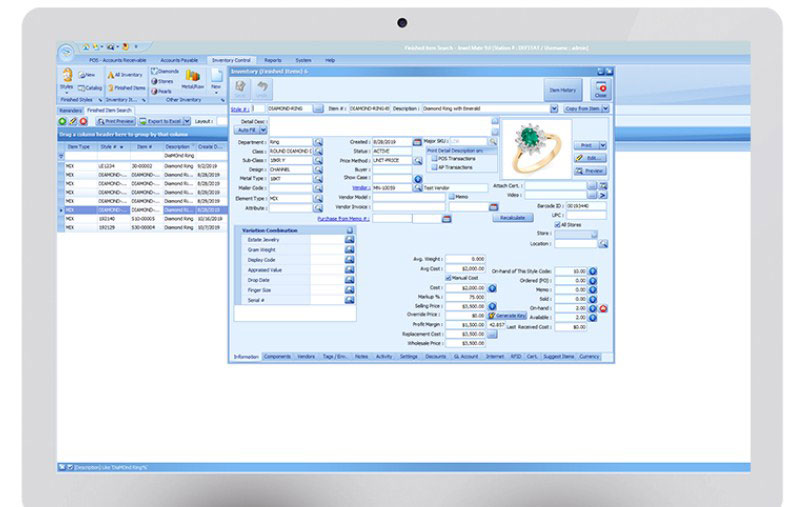 This on-premises software assists both retailers and wholesalers.
POS features include processing transactions, converting layaways to sales, tracking pending repair status, and generating periodic reports. It allows you to store information about customers and sales and track phone conversations.
Orderry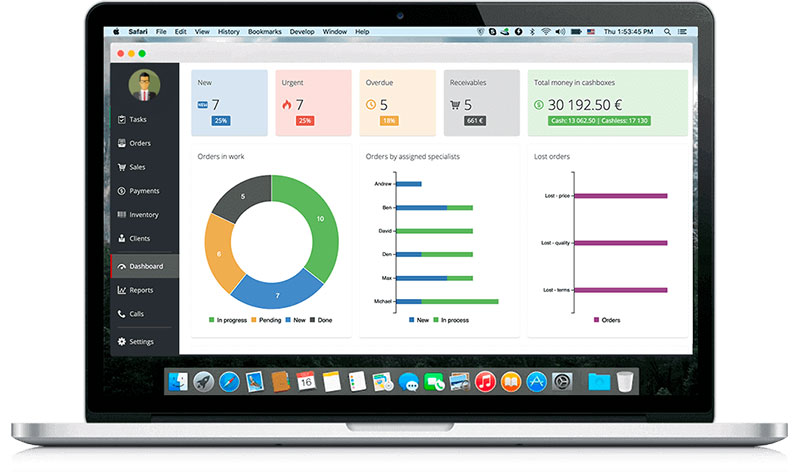 This software has been created to provide complete assistance to jewelry repair shops. Its goal is to streamline, automate, and optimize all processes.
It is a cloud-based, user-friendly tool. Use it to create and manage customer databases, and manage inventory and sales. Through its secure interface communicate with customers, buyers, and suppliers. Orderry can calculate payroll, create reports (finance, inventory, order), and process accounting.
It collects and combines all important metrics into a one-page assessment. Generate regular reports for better control.
SquareUp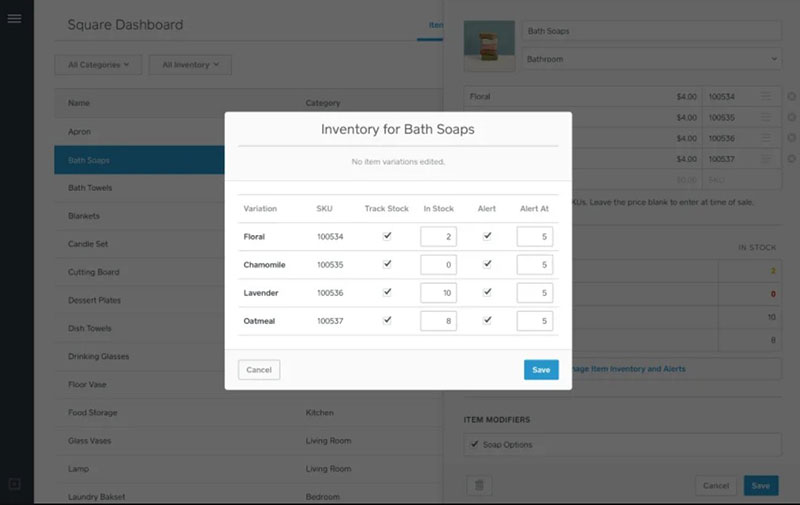 This software is mainly used for processing payments but includes some basic inventory management features. Since it is compatible with mobile devices it is very convenient at trade shows.
Diaspark Retail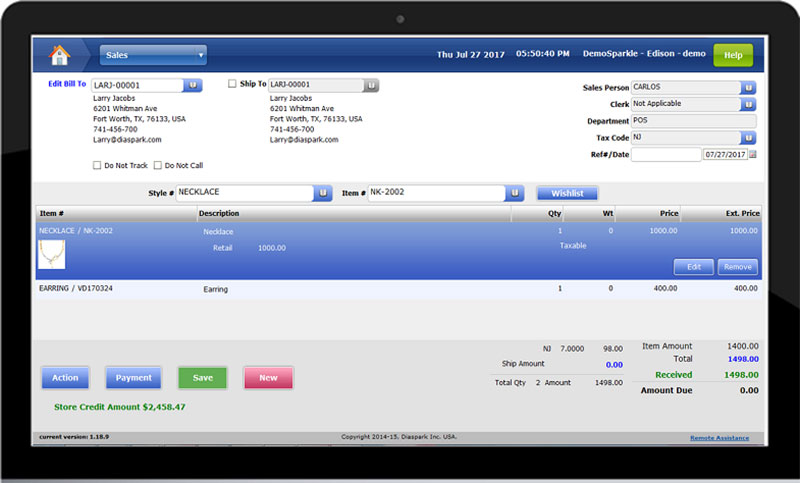 This jewelry management system works well for enterprises with one or several locations. It allows for instantaneous control of various operations.
Main features include:
Customer Relationship Management
Layaway Management
Point of Sale
Purchase Management
Purchase Return Transactions
Received Items Management
Repair and Appraisals
Reporting
Vendor Dashboard
Ending thoughts on these jewelry inventory software options
Choosing the right inventory software will be based on a few specific requirements. Jewelry retailers need detailed and reliable inventory tracking. The software should also offer the ability to generate an IRS Form 8300. To create and maintain good customer relations the CRM feature is a must.
Wherever you are, cloud-based jewelry store inventory management software enables you to manage your enterprise. It provides access to all the important data. One of the best inventory management applications is Pack4it. This tool will help you keep track of and manage your inventory in a smooth and well-organized way.