In the past, a small business was not much more than a cash register. That is because it was mostly about receiving payments and contacting customers. Nowadays businesses need more to provide customer satisfaction and to keep things simple. A business needs a point of sale (POS) system for managing and recording sales data, inventory, reports, and customer contact data.
There are a variety of POS options on the market. Many are tailored to the needs of small businesses. But picking the right system is not an easy job. The large spectrum of technical specifications, functions, options, and price ranges make it a tough choice.
What Is a Point-of-Sale System?
A cash register receives the incoming money. A point of sale system is a platform associated with the cash register. POS systems offer features that go beyond just receiving money.
Mobile devices and cloud services can be integrated into the system to meet the needs of the users. The POS system can also include credit card payment processors and back-end accounting systems. This combination can eliminate the need for multiple physical backend servers.
With increasing technological possibilities more applications may be integrated. These include inventory management and customer relationship management (CRM).
Obtaining a POS system is an investment that makes tasks easier and faster. It improves communications, facilitates daily operations, and stimulates sales. It expedites the process of inventory and modernizes the sales process.
It is wise to invest in the right POS system right from the start. The available market options have been thoroughly investigated and are presented in this article. The factors considered included pricing, system capabilities, hardware, integrations, and customer support.
Cloud POS System options
Pack4it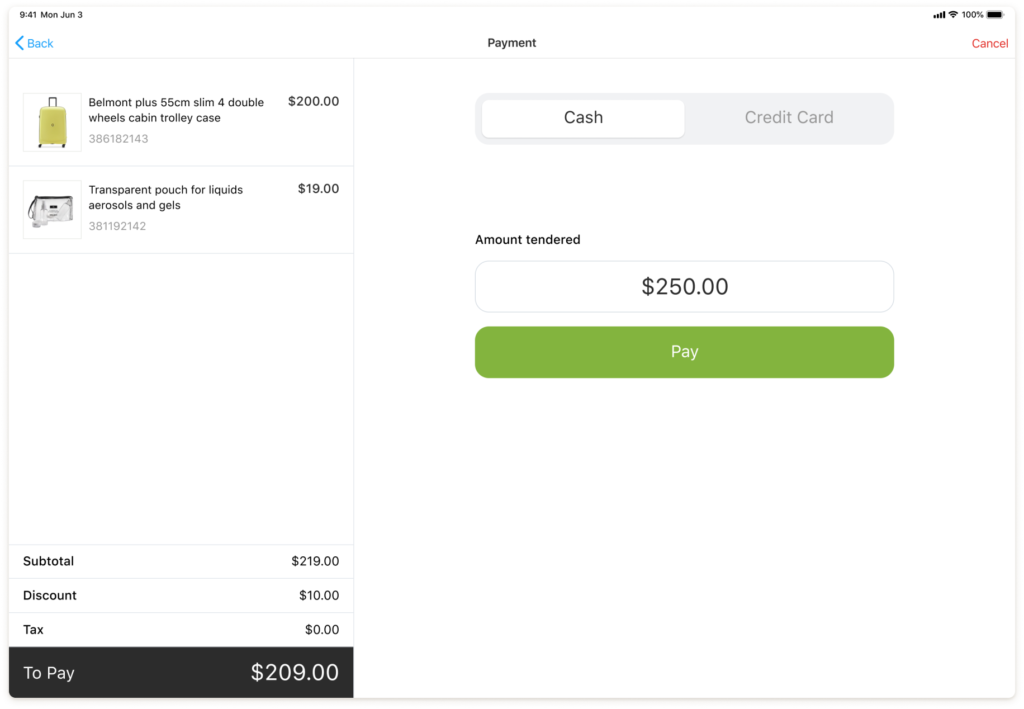 Pack4it brings together online and offline stores, warehouses, and vendor lists in one place. It always presents up-to-date sales and stock information. And there is no need to change numbers by hand or switch between different applications.
This POS solution manages online and retail sales orders. Any kind of sale is handled in the same, transparent way. It does not matter whether it is a marketplace sale, wholesale deal, or purchase by phone. At any time, a manager has the option to convert the sale to drop-ship, or forward it to other vendors to get quotes.
Keeping track of how customers shop is important information for improving customer experience. Pack4it comes with a feature that manages customer-related tasks, notes, and history.
The integration of the different modules has major advantages for the user. It is unique in that it unites POS, CRM, and inventory modules into one tool. Information that is available to managers or employees is always factual and up to date. Accurate planning and demand forecasting become achievable. So customers are never disappointed by supply chain inefficiencies.
Pack4it users can expect excellent support from the developers. Both ends stay connected for technical support and expeditious implementations of needed customizations.
Businesses that want to expand, may hold back because of the large investments in infrastructure that are involved. Pack4it is the perfect tool because it allows businesses to scale up a business without large extra costs.
Epos Now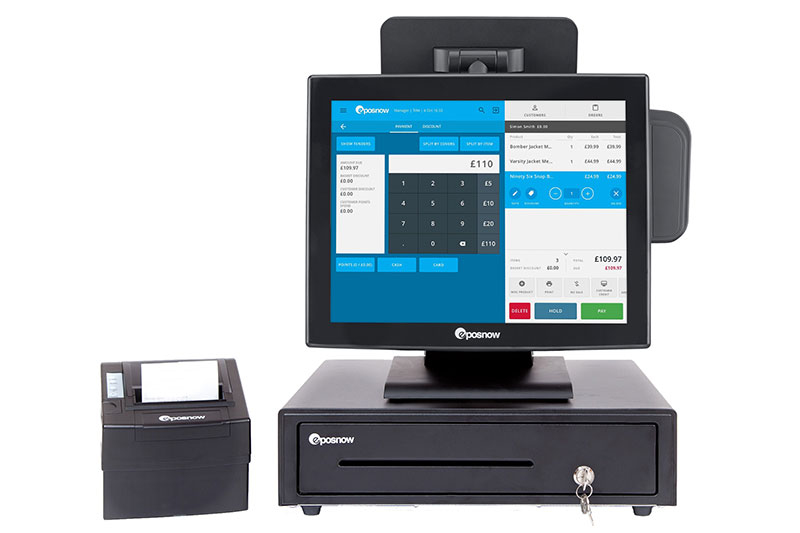 Epos Now is a POS management system suited for small to mid-sized businesses. It packs a Point of Sale module, offering integrated customer and inventory management. The retail accounting includes a general ledger, purchase orders, and payroll processing. Epos is cloud-based and works with Windows, macOS, iOS, and Android.
Epos Now offers software as well as hardware solutions. Epos Now benefits from a quick, uncomplicated setup. It is compatible with any barcode or receipt printing equipment.
Clover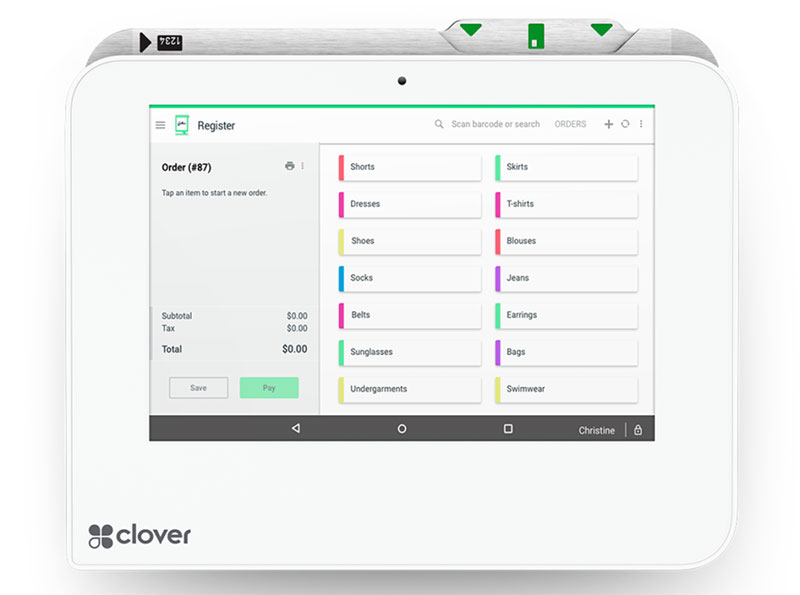 Clover integrates order taking, payments, inventory, and team management. The system accepts credit cards, debit cards, gift cards, and mobile payments. It has a digital receipt functionality, one-touch tipping, refunds, returns, and exchanges. All features are built into the system and are cloud-based. This allows for a quick setup.
Clover is highly customizable, growing, and expanding with the business. The Clover app allows the client to add different features and connect with various business programs.
NCR Silver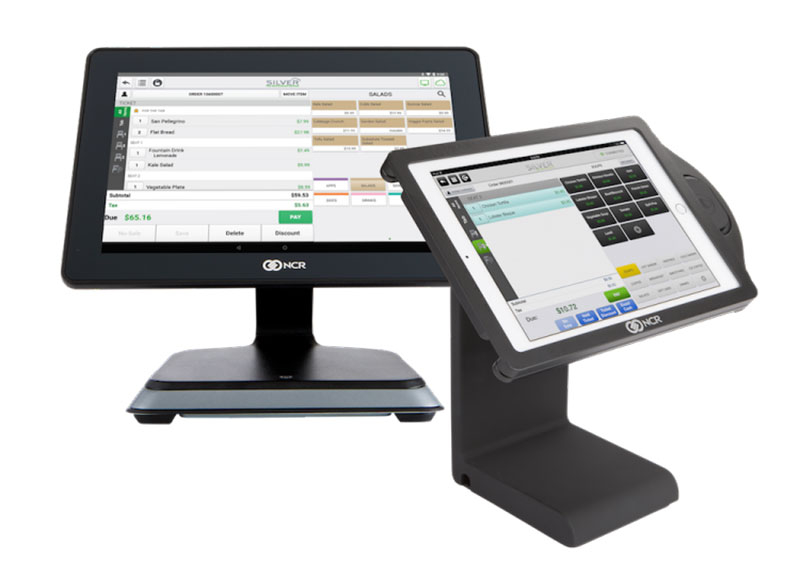 NCR Silver links with enterprise-class back-ends and has a large range of hardware options. Extra features can be added with ease, but beware of the associated price increases.
Where many POS providers focus on small businesses, NCR targets a wider market. They offer a "complete payment, marketing, and management solution for entrepreneurs." For smaller businesses, NCR Silver handles POS duties, sales, and back-office functions.
Square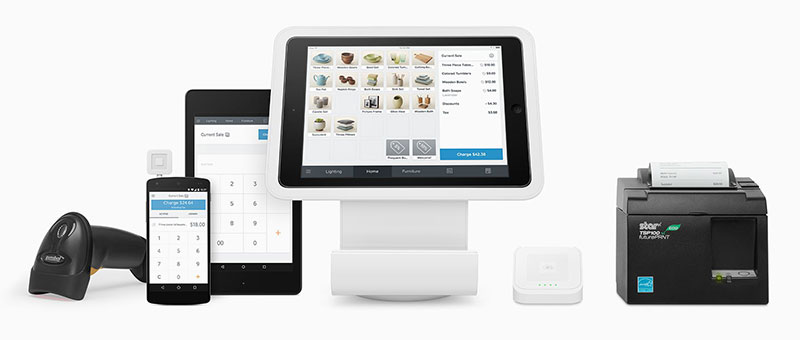 With the Square cloud POS system, any smartphone or tablet can become a POS tool. No additional hardware is needed to get the system running. This flexibility makes Square one of the most used systems on the market.
Although not necessary, Square also offer different hardware options such as:
Registers
Readers for contactless and chip payments
Readers for magstripe
Terminals
Erply POS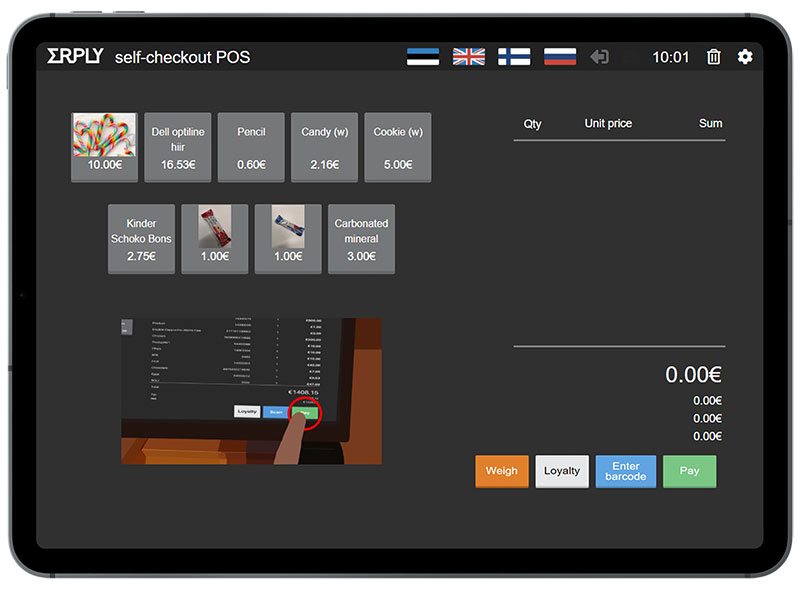 Erply POS provides point-of-sale tools for franchise-model businesses. With Erply POS's franchise plan, owners can set permission levels for their employees. Franchise owners can choose to centralize their inventory, CRM, and sensitive information.
Erply POS also offers barcode scanners, employee management tools, inventory management, and sales tracking. Services and products are available at an enterprise or basic level.
ShopKeep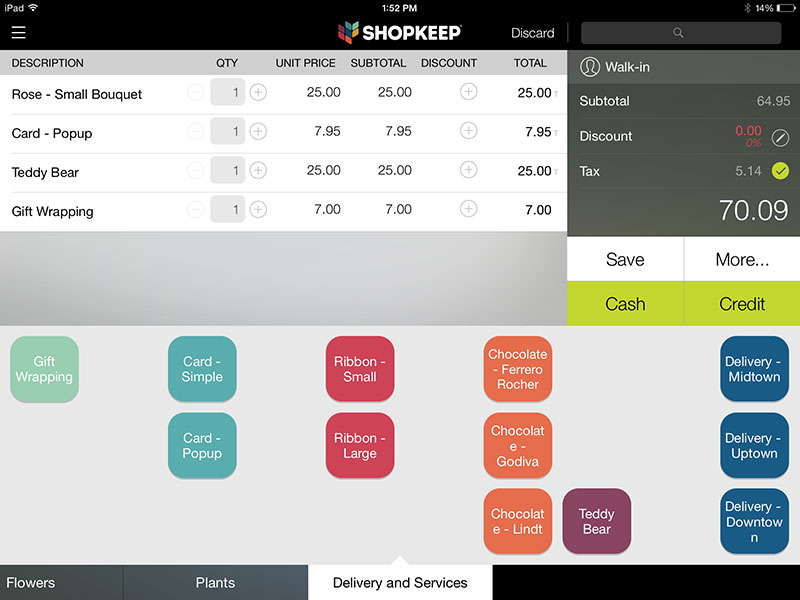 ShopKeep focuses on retail businesses, bars, restaurants, quick-serve businesses, and franchises. The software is compatible with iPads, iPhones, and Android devices with a touchscreen. It allows the users to add and remove orders from a wishlist. A barcode scanner feature can be added to the system. Use this to add items to a shopping cart and for inventory management.
Other inventory management features include re-order and SKU control, and manually adding items.
Vend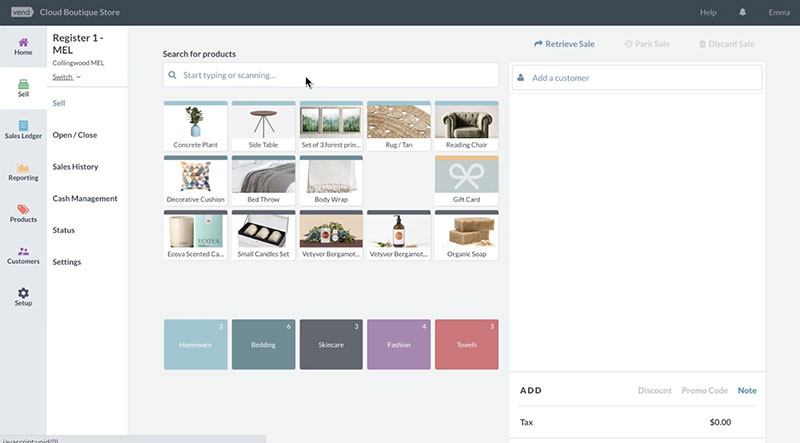 Using a cloud POS system affords various advantages. For those who want to make use of that flexibility, Vend offers an excellent choice. It is rated as one of the most user-friendly software options.
Vend has all the necessary components to run any type of business. Besides processing transactions, it generates real-time reports and offers inventory management features. These help to save time and increase sales.
Shopify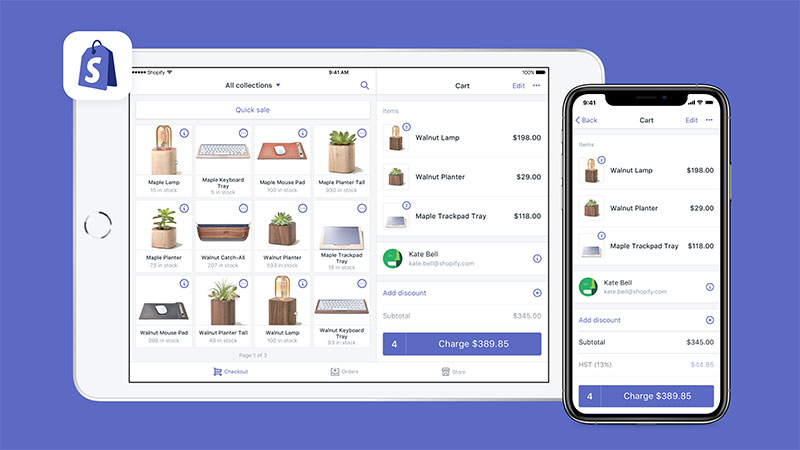 This platform is suitable for e-commerce businesses, online shops, or shops that want to expand into the e-commerce space.
Shopify manages all online and in-store sales. Its advantage is that it unites two different sales types into one cloud POS system. It updates and manages inventory over different locations in real-time. This allows management of stock transfers between locations and inventory forecasting.
SalesVu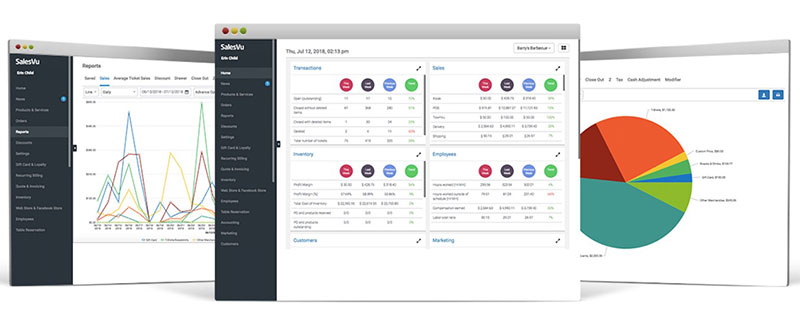 This independent cloud-based retail POS system offers a harmonious payment processing solution. A particular advantage of SalesVu is the flexibility of the underlying software.
SalesVu aims to help businesses sell more. It has superb marketing features embedded in the software designed to increase profits. It works best online, but also offers an offline, basic functionality. The simple appearance can be customized to the preferences of the client.
Booker POS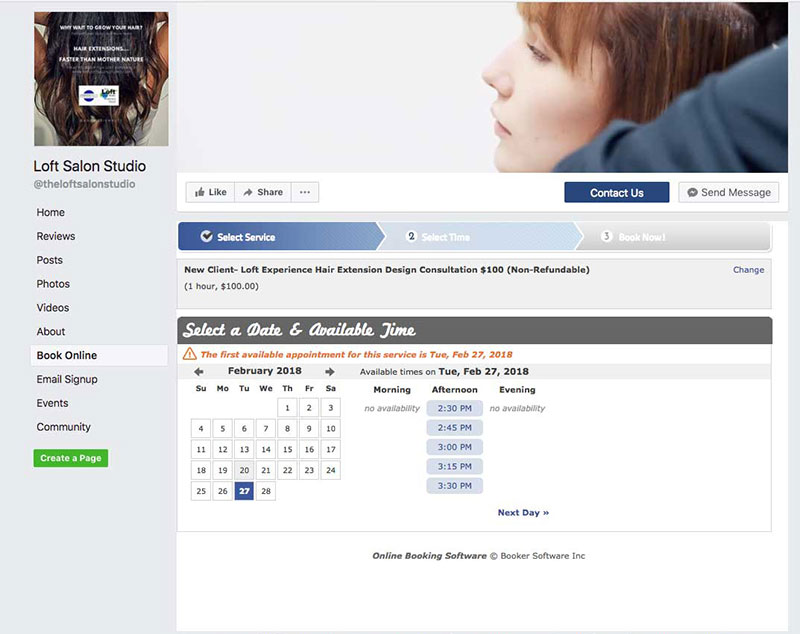 The Booker POS offers a variety of features and the intuitive design is a big plus for this system. The simple interface and reduced number of tabs make it easy to use. It also contains an appealing payment processor. Payments are processed through institutions like Bank of America, First Data, Integrity, PNC, SubLyme, Vantif, and Wells Fargo.
Outstanding about this system is the integrated marketing features. This allows a business owner to centralize online business activities. It is possible, for example, to send out social media blasts from within the Booker POS Marketing tab.
Talech POS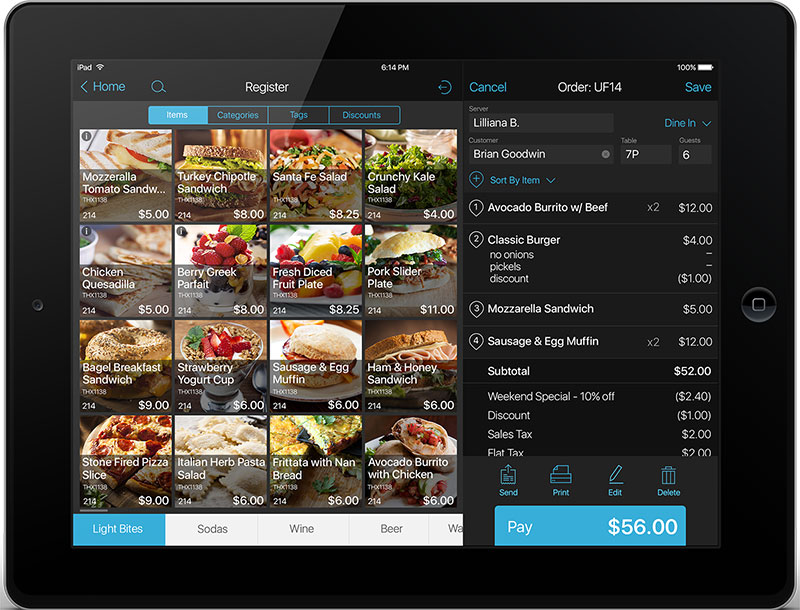 Talech is a rather new player in the POS field. aThe platform offers a straightforward interface and a support team for all users. It is available in a range of price categories.
Talech was created with restaurant, retail, and service companies in mind. It includes features such as customer and employee management, exchange, and discounting abilities. Talech offers a wide range of support, including live chat and 24/7 email, and searchable online help documentation.
Retail Pro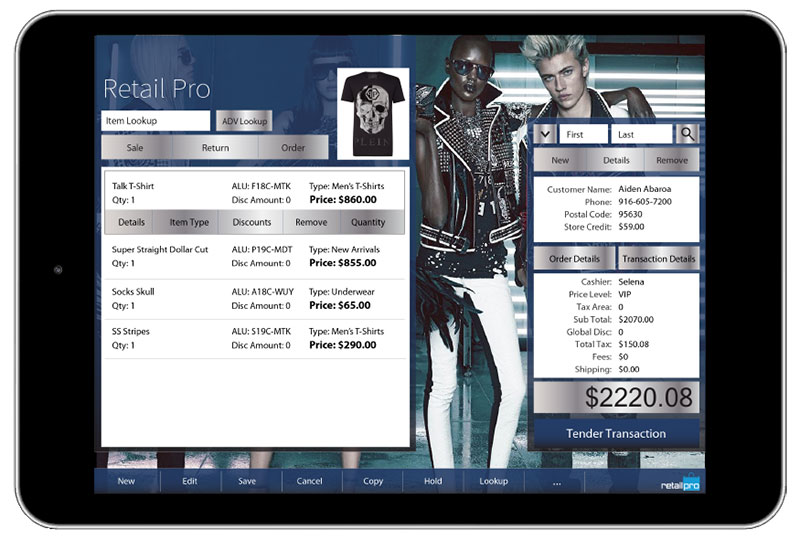 Retail Pro is a great option for specialty retail needs. The POS features that they offer are very impressive. It provides e-commerce functionalities that allow the management of online transactions. It is ideal for retail businesses that have both online and physical shops.
The most remarkable elements of Retail Pro are customer engagement, platform flexibility, promotions, and unified commerce.
POS Nation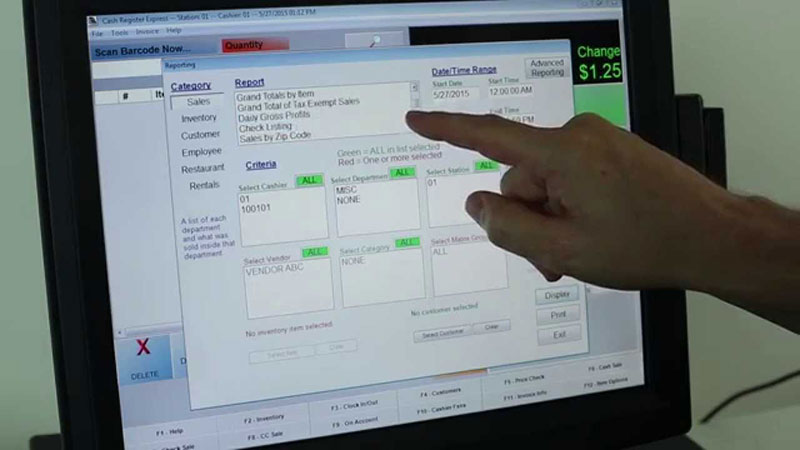 POS Nation is the POS provider of many types of businesses including retail, restaurants, and specialty stores. Their objective is selling solutions so they provide around the clock support.
The offered point of sale software is highly customizable. It includes tools for customer management, inventory control, reporting, and staff administration. POS Nation allows the clients to choose the components they need for their business. The system interface can handle multiple locations and is powerful, but uncomplicated.
Key features of this POS system are loyalty, employee and inventory management, analytics, and reporting.
Lightspeed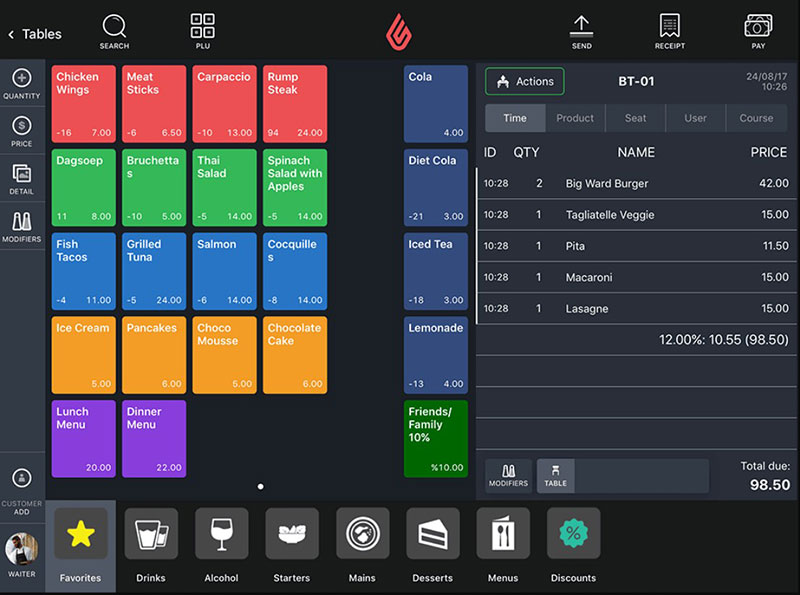 Lightspeed provides its system for online businesses, retail stores, and restaurants. It is iPad-based and is fully mobile. This makes it simple to take inventory, show customers pictures or descriptions, send and receive orders, and accept payments. The customer has the option of monthly or annual service contracts.
Lightspeed also provides credit card processors and is compatible with other POS equipment. The software's flexibility allows the client to customize the system to his needs.
Additionally, Lightspeed allows for the printing of barcodes on gift cards. This makes the gift cards reusable and easy to process. The system has discounting options, the ability to suspend or hold sales, or transfer sales to another device.
QuickBooks POS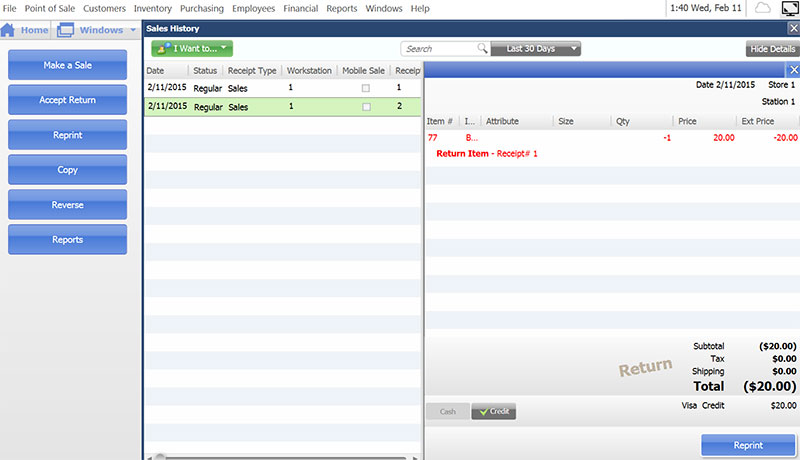 QuickBooks provides small-business accounting solutions and also offers an excellent POS system.
Many POS systems integrate or sync with third-party accounting software. As QuickBooks produces both, the integration process is smoother and much improved.
Using the combination of POS and accounting software from this same provider yields accurate analytics. These insights show businesses where and how to improve. Using QuickBooks leads to a streamlined accounting department.
Korona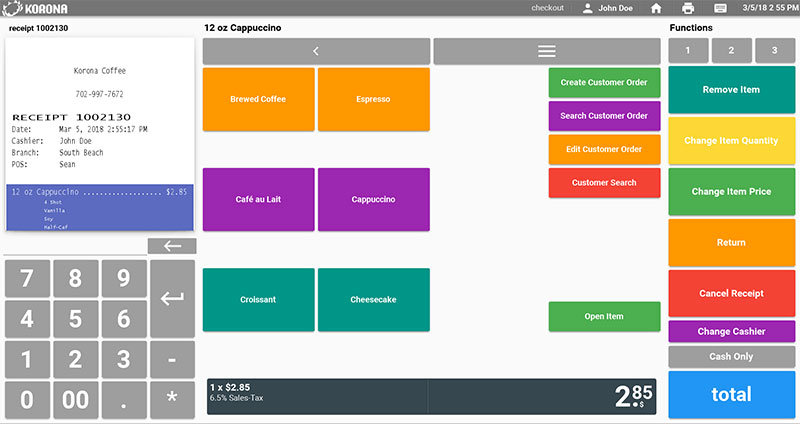 Any type of retail business can use Korona POS. This system features various standard functionalities. It also offers e-commerce services, employee management, gift cards, inventory control, loyalty followup, product analytics. Korona functions across different locations.
Korona combines all inventory tools into one, mostly automated system. It can generate stock notifications, determine par levels, vendor management, automatic ordering, and invoicing.
TillPoint POS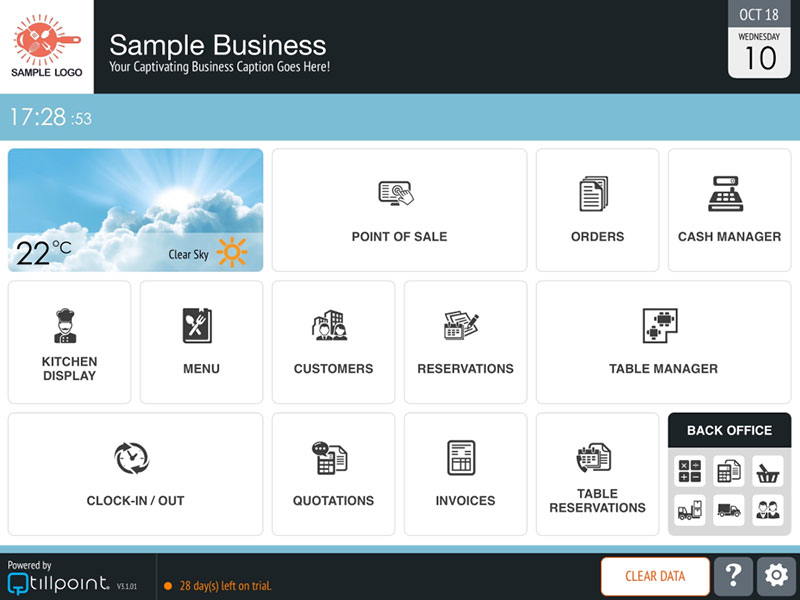 TillPoint is one of the best POS systems and is worth consideration. TillPoint offers an all-in-one POS system or POS software only.
The EPOS system is particularly suited for retail and hospitality businesses. Set up is rapid and simple. TillPoint's software can create and view multiple quotations. Clients can showcase a product or service in their catalog by adding it to the inventory.
What is the right POS system for you?
The right POS software can aid businesses to achieve success. A POS system does more than process payments. Before buying a point of sales system take time to consider the needs of your business. Investigate what the different platforms have to offer.
Every POS provider has features that will meet several of your needs. Pack4it offers the best overall package for the needs of retail shops.
The seamless combination of its hardware and software allows you to receive payments at any place, day or night. Pack4it offers a free trial plan with a reasonably priced processing fee. Pack4it is an all-round, complete, and affordable point of sale solution.