"The best investment is in the tools of one's own trade." – Benjamin Franklin
Tools are designed to enhance our work performance. The right tools for monitoring and managing your sales will assist you in running your business more efficiently. So don't underestimate the importance of choosing the right EPOS system.
There's a wide variety of EPOS systems on the market. They offer much more than just payment processing. Their functions can range from sales reports and accounting to inventory and staff management. They can also generate loyalty programs for your customers and help you to scale the future activity of your business.
Selecting the EPOS system that will match your business perfectly can be difficult. It is a core tool for your company, so consider your options carefully before you make an investment.
EPOS System – Definition and Function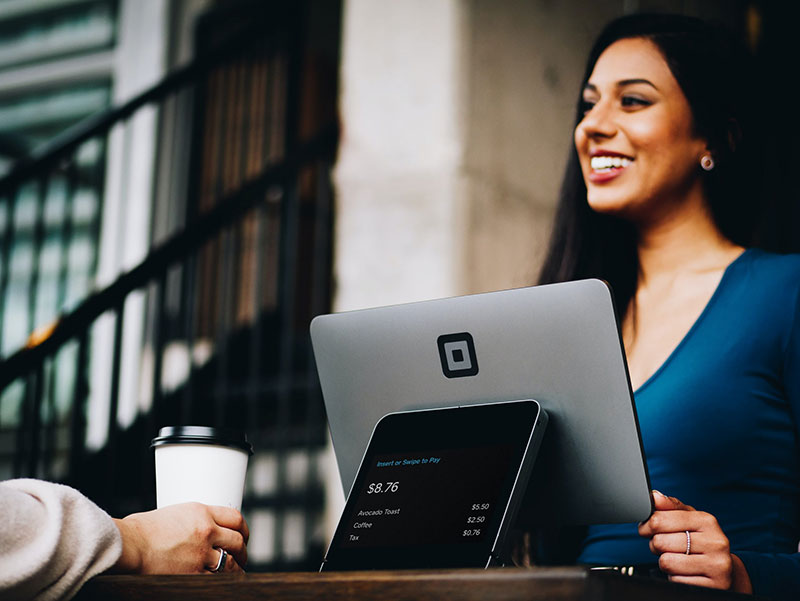 EPOS, or an electronic point of sale system, consists of hardware (the equipment) and software (processor). It allows your business to manage sales more efficiently.
The hardware usually includes a central computer terminal and other devices connected to it either with a cable or wirelessly.
The software can be customized depending on the specifications of your industry. It can be installed onto your terminal, or it can be cloud-based. This will allow you to keep track of your sales across several locations.
The EPOS systems are designed to help you manage all the different areas of your business simultaneously. That includes stock control, pricing of items, order processes, and distribution.
In addition to the standard and basic functions, the software can be tailored to your particular needs.
EPOS Equipment and Software
Typical devices include:
a central computer terminal
barcode scanners
receipt printers
Chip and Pin devices (PDQ machines)
a cash drawer
There may be some additional equipment specifically tailored to your industry requirements. Keep in mind though, that not all software is compatible with every piece of equipment. Before you buy your hardware, make sure the software will work on your devices.
Some typical software features integrated into an EPOS may include the following:
purchase and order processing
sales tracking
accounting
e-commerce integration
stock availability management
promotions, discounts, and loyalty programs
customer relationship management (CRM)
custom orders management
creating and managing staff schedule
managing reservations (for restaurants and other services)
Based on your industry specifications, there're also some extra features. For example in the hospitality sector, there's a function for table service. This function will take care of managing multiple orders, giving the staff more time for serving the customers. Kitchen printers can be installed, displaying the orders coming from the waiters.
If your business is a clothes shop, you can look for software that comes with a function to arrange items by size and color.
A mobile business, such as a market stall, will require the offline mode. The information received while offline will be stored until you connect to the internet again.
The Benefits of EPOS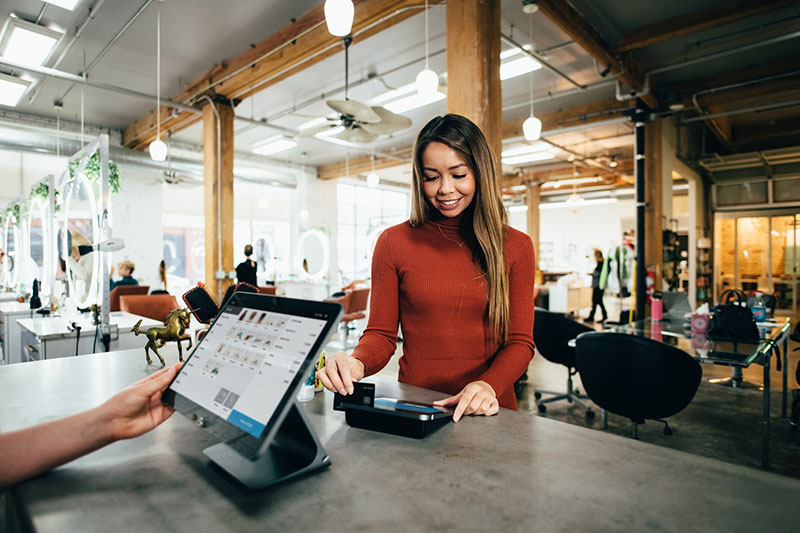 There are many benefits of using a sophisticated EPOS system. It offers you clear visibility of the operations of your business. It's a way of modernizing and speeding up the processes.
The only downside could be the price. The functionality of the system that you purchase will depend on your budget, but the many advantages will likely outweigh the extra cost.
Automation increases productivity. You can have staff focus more on serving the customer, instead of trying to manage the technicalities of the job itself.
The inventory management feature will assist your business with the monitoring of stock supplies. You can prevent running out of stock or having an excess, and forecast future stock supplies.
The sales reports provide accurate information regarding the purchases made each day and eliminate the risk of human error. You can see what your customers are buying the most, at what location and even who of your staff has the highest sales.
The loyalty programs can be tailored to the behavior of your regular customers. The system also allows you to create personalized marketing campaigns.
In the hospitality and restaurant sector, you can see the room occupancy in a hotel, or if your restaurant is running out of the daily specials.
The system also helps you to keep an eye on your profit margins. It makes the financial data more transparent, easier to access, and process.
The customers are served faster as the payment process is streamlined. EPOS systems integrate directly with card terminals.
Another beneficial feature is the e-commerce platform synchronization. Your online buyers will be up to date regarding stock and price instantaneously.
The Right EPOS System for Your Business
While the cost of the system can be an issue for many business owners, the overall improvement of operations justifies the investment. But before comparing the price variations, consider the following points.
1. Your business has unique needs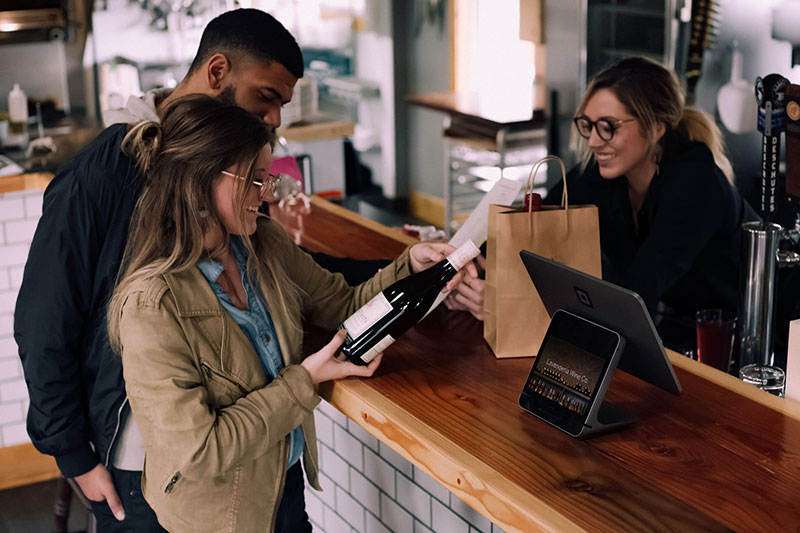 As we have seen, the variety of functions corresponds with the wide range of business specifications. So start by thinking of what your business needs. Each industry and every individual company within the same industry is unique.
Think of which department needs the most attention and which processes need improvement. You may have already established your way of completing accounting, stock checks, sales forecasting, and staff management. But accomplishing it efficiently with a centralized system will help you save some extra time and avoid making erroneous decisions. This in turn can save you unnecessary costs.
Analyze your company needs in the following areas:
Online ordering for in-person pickup
Delivery options and tracking
Integrated e-commerce and/or mail order
Age Verification or ID prompt
Mobile POS
Integrated appointment or class calendars
Promotions & loyalty programs
Performance reporting capabilities
Third-party software integrations
Various reports
The business size and the range and diversity of the stock
Hardware preferences
2. Transactions operations
Consider how transactions will be processed. Will you need a barcode reader or a touchscreen? Depending on the EPOS provider, you may be able to choose your payment processor. In other cases, you'll have to integrate with the payment processor that is partnered with your EPOS provider.
3. Stock levels monitoring
It may be a challenge to always carry the right amount of inventory. Would you appreciate automated reminders when you're running low on products?
The EPOS system provides not only monitoring of stock, but also forecasting of your future sales. It will help you to always be ready for the demand. Your customers will also appreciate the efficiency of your stock control.
4. Customer personalization
According to a survey carried out by Infosys, 59% of customers believe that personalization has a noticeable influence on purchasing. 31% of surveyed consumers wish their shopping experience was more personalized.
Are you looking for ways to improve your customers' experience? Your system should offer tools to upsell, view purchase history, and create customized loyalty programs.
You can synchronize all your sales channels to offer the same promotions, or you can keep them unique. Tailoring different types of loyalty ideas to your instore and your online shop can be a challenge without having a centralized monitoring system in place.
5. Easy to use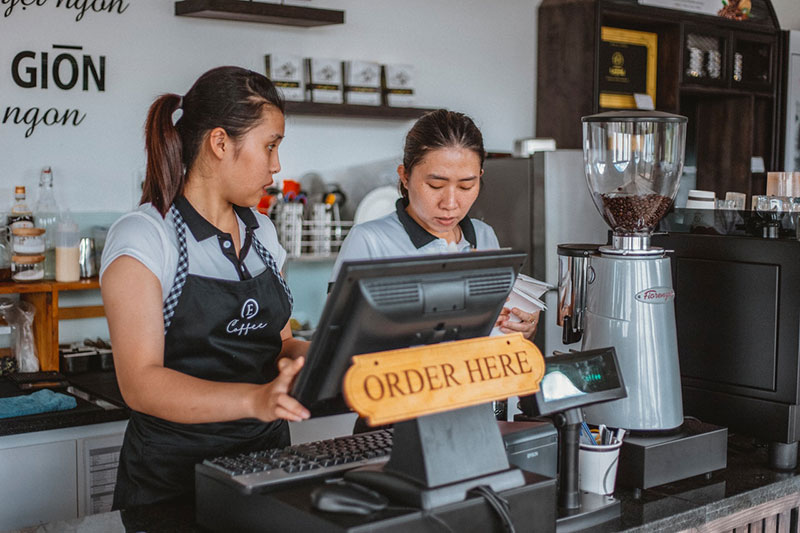 Purchasing a system that is not straightforward can be counterproductive. Your staff shouldn't be losing time trying to operate complicated software.
The interface should be attractive and intuitive. It may be a good idea to choose a processor first. Then look for the equipment that will be most compatible with it.
6. The future of your business
Finding the right EPOS system for your business should be a long-term investment. You don't want to think of replacing it again in a few years so look at the future of your company.
How may your business' needs change in time? What will your customers require? Will you need to integrate new sales channels? Are you planning to expand your offer? Make sure the system will support all future changes.
7. Mobile POS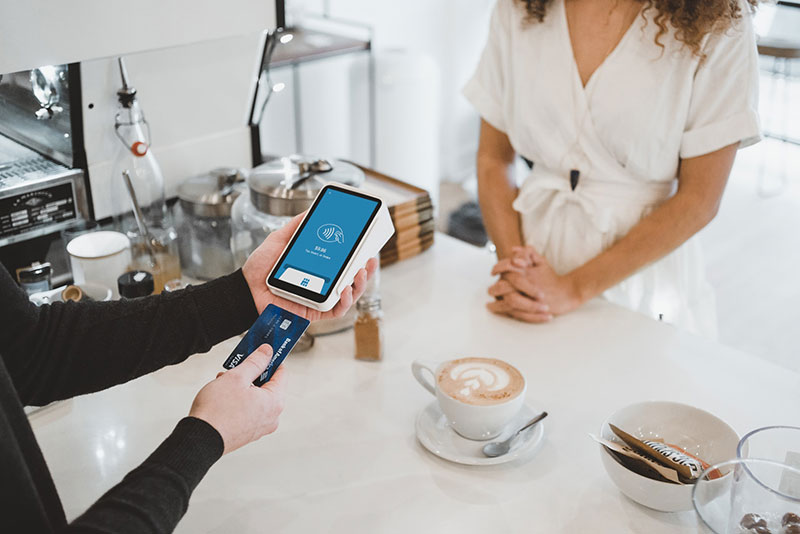 Using a smartphone or tablet to perform the POS services has become popular with retailers at trade shows or at places with limited floor space.
This feature can provide a new customer experience and avoid long lines at the cashier. There's also mobile device ordering and new ways of product displays. These potential new avenues of service need to be compatible with the EPOS you're considering to buy.
8. Data security
The prevention of unauthorized access to your EPOS system is a high priority for both your business and your customers. The theft of clients' personal data, such as credit card information is of great concern. So make sure that you have a robust data protection system.
9. Cloud backup
The EPOS software can be installed either onto your terminal, or it can be cloud-based. The advantage of having a cloud-based processor is real-time reporting and the ability to access the data from any location. This can save you a lot of time, especially if you have multiple stores. The data in the cloud is encrypted and safe.
10. Installation
The majority of retailers set up the system themselves, without the assistance of a professional. Depending on the size of your business and your budget, you may or may not decide to hire an installer.
11. Additional software integration
To cater to the always evolving needs of your customers and your industry, you'll need to buy a system that will support additional applications in the future.
These new tools are also called third-party integrations (or applications). They extend the core functionality of your current system. Before you purchase your EPOS, make sure you can expand its functionality in the future.
12. Data backups
The great thing about an EPOS system is data storage. You don't have to worry about losing any important documents, everything is saved in the system.
But as with every software, make sure you backup your data on a regular basis. This is vital in case an error occurs in the system. You may have to restore all the data saved in the latest backup.
12. Renting or buying
If you're hesitating about the cost of buying the system, you may be wondering if it's possible to rent. After all, not every business is in the position to make an outright purchase and you may be struggling to decide on a system.
Some EPOS providers offer the option of renting the system. However, you may end up paying more in the end. The contracts may restrict you for an extended period of time. So weigh your possibilities carefully.
A good quality EPOS system can help reduce the costs generated by your business. It's designed to improve cash flow and prevent the loss of sales. It can enhance marketing strategies and support customer loyalty. So in the long term, you won't regret your initial investment into a powerful EPOS system.
If you're trying to stick to a low budget, you may be tempted to buy a cheap and simple system. However, it may not be flexible enough, and it won't be able to grow together with your company. You will have to change it in the future and you'll end up spending more long term.
EPOS systems to pick from
Pack4it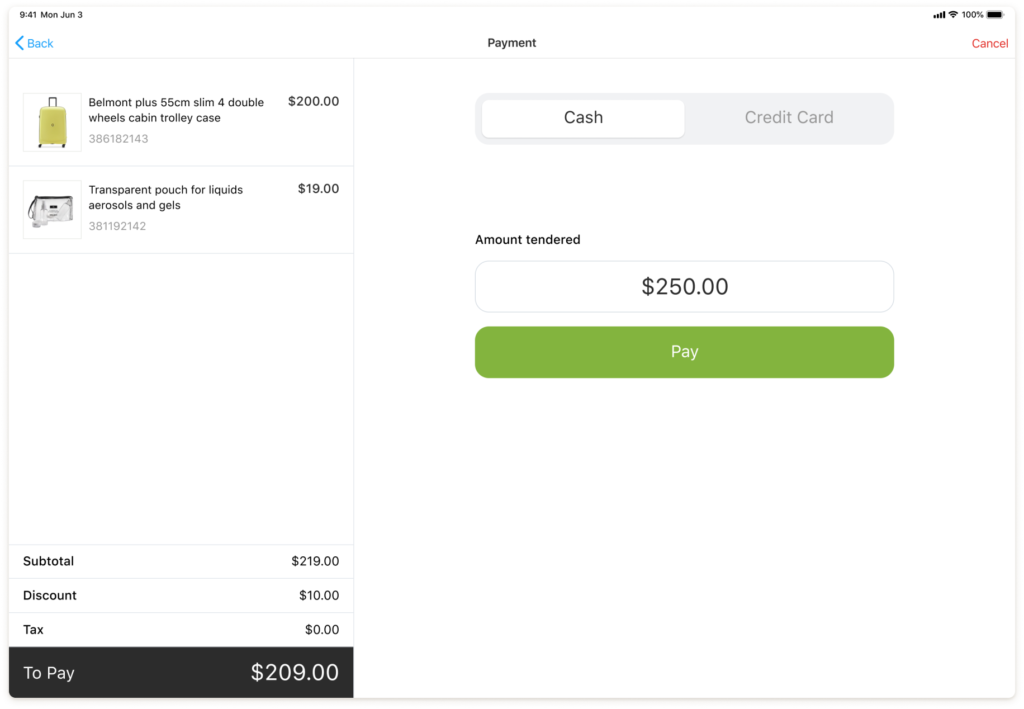 Pack4it brings together online and offline stores, warehouses, and vendor lists in one place. It always presents up-to-date sales and stock information. And there is no more need to change numbers by hand or switch between different applications.
This POS solution manages online and retail sales orders. Any kind of sale is handled in the same, transparent way. It does not matter whether it is a marketplace sale, wholesale deal, or purchase by phone. At any time, a manager has the option to convert the sale to drop-ship, or forward it to other vendors to get quotes.
An important aspect of a successful business is to maintain good relations with clients. Keeping track of how customers shop is important information for improving customer experience. Pack4it comes with a feature that manages customer-related tasks, notes, and history. 
The integration of the different modules has major advantages for the user. It is unique in that it unites POS, CRM, and inventory modules into one tool. Information that is available to managers or employees is always factual and up to date. Accurate planning and demand forecasting become achievable. So customers are never disappointed by supply chain inefficiencies.
The software is easy to install and use. Pack4it user can expect excellent support from the developers. Both ends stay connected for technical support and expeditious implementations of needed customizations.
Businesses that want to expand, may hold back because of the large investments in infrastructure that are involved. Pack4it is the perfect tool because it allows businesses to scale up a business without large extra costs.
Vend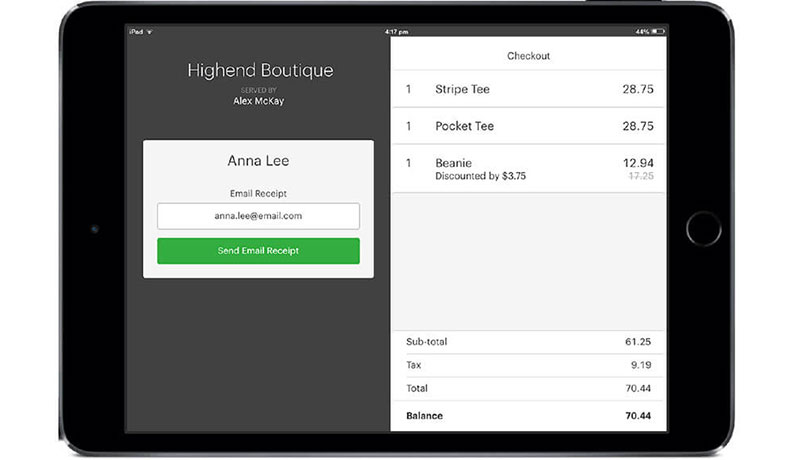 This EPOS works offline. It offers features such as Fast Staff Training, custom receipts, returns, refunds, and store credit.
It suits smaller to mid-size retailers and its platform is user friendly. It can be linked with your e-commerce website, providing multi-channel inventory, product import and management, and real-time reporting. It offers a cloud-based system and a good mobile sales function. One disadvantage is that it only uses third-party payment processors.
Vend's customer service offers 24/7 assistance through email and live chat.
Shopify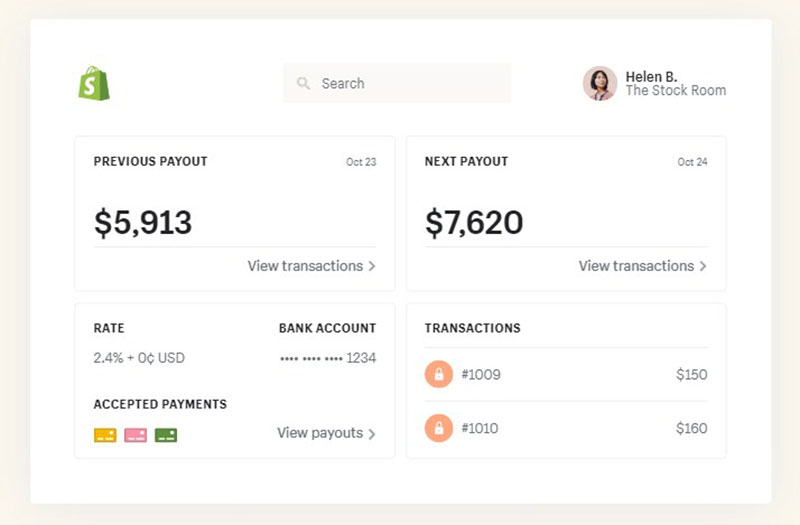 This EPOS allows you to sell in person, online, and on social media. It has built-in features for analyzing and creating digital marketing campaigns. It offers a single dashboard for managing the orders, shipping, and payments, so it's easy to use. The retailers will appreciate their stock management tools. It's been rated as simple to implement and versatile.
However, this system won't work for the hospitality industry. You'll also need to buy additional hardware.
Epos Now
This system will suit small to mid-sized retail companies. The functions include stock management, accounting, customer management, and more. It's cloud-based.
Epos Now provides both hardware and software. Among the hardware are card scanners, barcode scanners, age verification, a staff clock, and other features.
Magestore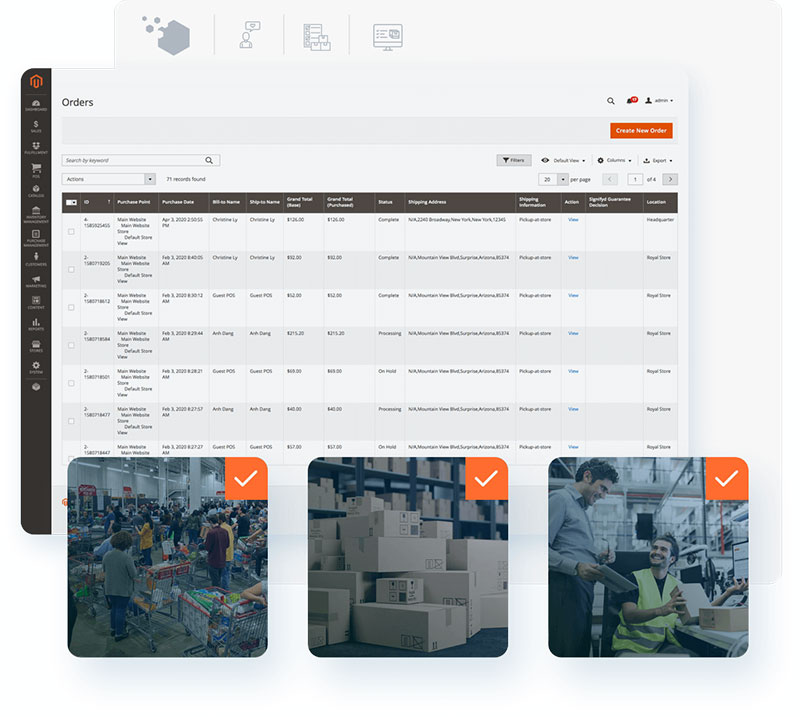 The features of this EPOS include stock management, layaway management, store management, and a loyalty program.
It's available as a web app and native iPad app and can work with many different POS hardware peripherals.
It also works in offline mode.
MicroBiz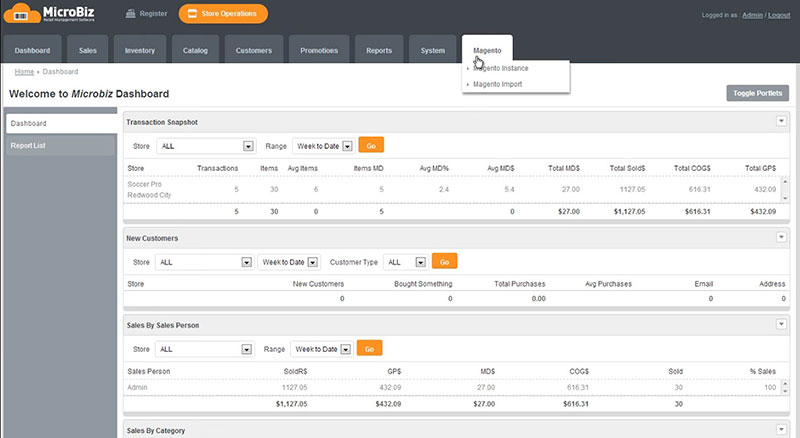 This system is great for retail. It has some unique features for bicycle stores, clothing businesses, and sport supply outlets. It's easy to use and has received high ratings among users.
Another advantage is that it's partnered with different payment processors.
TouchBistro
This is a favorite system for businesses in the hospitality industry. It includes menu management, floor plan management, tableside ordering, and stock management.
It's easy to navigate and quick for both restaurant and bar service.
pointOne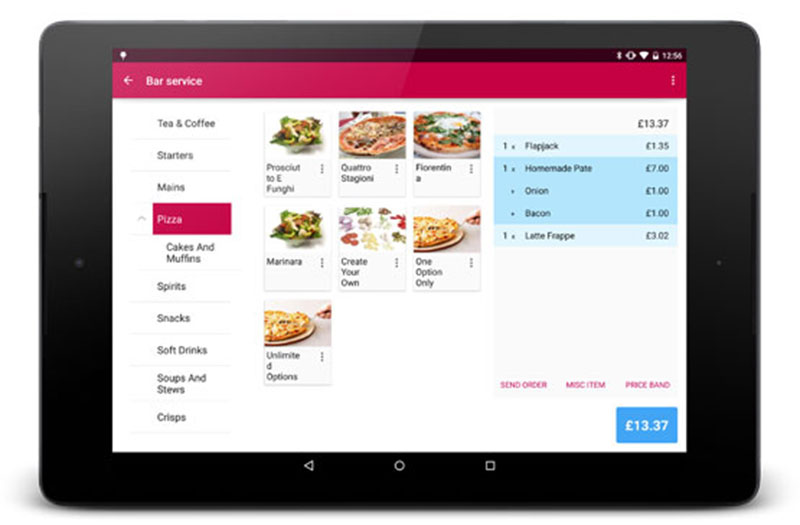 This hospitality industry EPOS features stock management, integrated kitchen management screens, table-side ordering, online ordering, both loyalty, and marketing management, menu management, and much more.
It's recommended for restaurants, nightclubs, pop-ups, and market stalls.
Nobly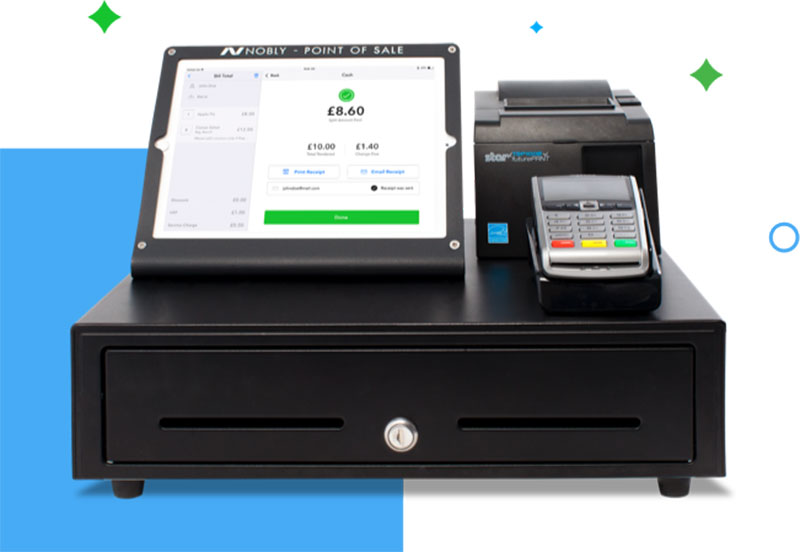 Nobly EPOS is an iPad system for small to medium-sized businesses in the restaurant sector. It has been reviewed as a straightforward platform that is quick to set up. Minimum training is required for tech-savvy staff.
It integrates with a variety of reliable payment methods. Among many other features, it offers gift cards, stock management, staff and sales reports, table service, ingredient tracking, and loyalty schemes.
Nobly's customer service has received high ratings for their support system.
Lightspeed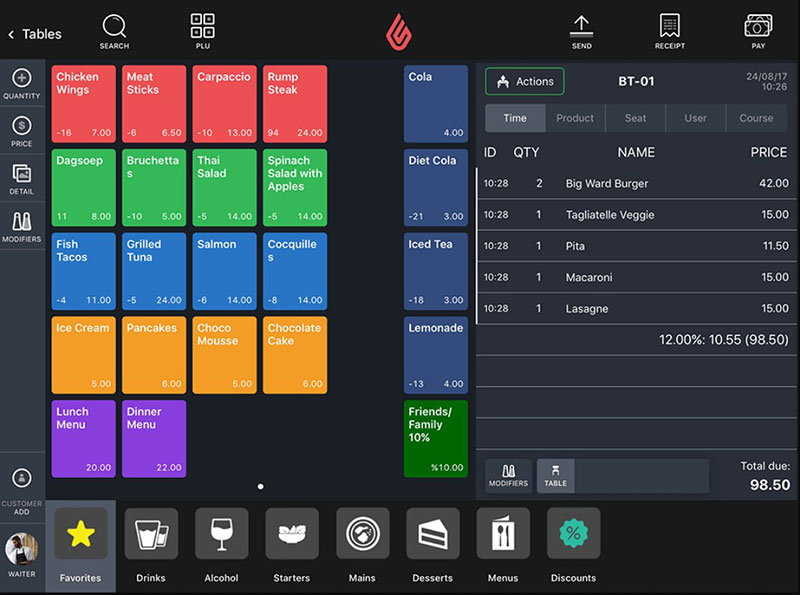 This cloud-based EPOS platform for retail offers stock management, purchase order management, accounting, cash drawer control, and other tools.
It provides a fully integrated e-commerce platform. The EPOS is easy to use with a clean interface. Their customer service has also been praised.
Ebizmarts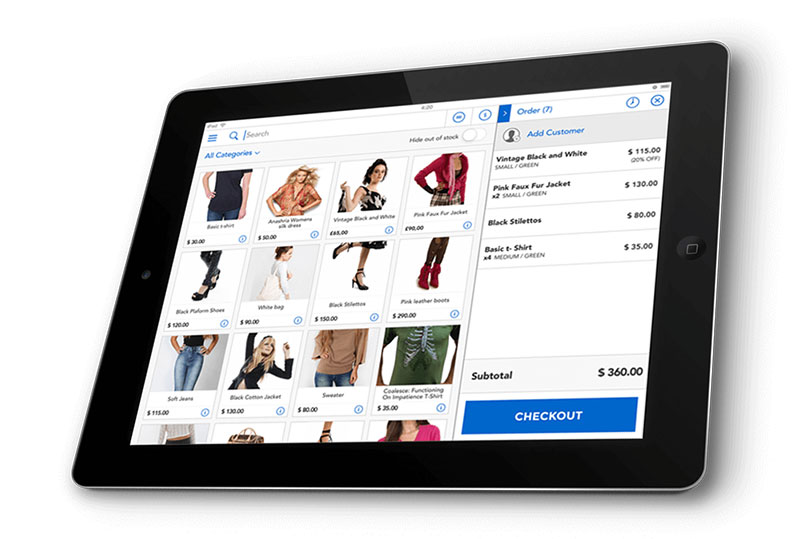 This is a mobile POS App that allows you to sell Magento products in your retail stores.
It provides multi-warehouse support, customer information management, staff management, and instantaneous stock updates. It features an on-hold order function. It has a layaway option and it's known for its Kiosk mode. It supports multiple payment methods.
Ending thoughts on purchasing an EPOS system
A robust EPOS system is a key tool for your business. What makes it so useful is the synchronization of all the processes that are so vital for your business. It's one platform that allows you to manage a wide range of data, having access to the information from any location.
It is a system that will be appreciated by both management and customers alike. It will make running your company more efficient and cost-effective. As for your customers, they will experience better client service, inspiring them to stay loyal to your business.
Once you have decided to invest in a new EPOS system, take your time and think about your specific needs first. Then look into the future of your business and foresee the possible expansion and evolution of your sector and company. Put yourself into the shoes of your future customers.
When you have analyzed both your current and future needs, choose the right software. Then, get an EPOS hardware that is most compatible with it.
If you enjoyed reading this article about EPOS systems, you should read these as well: